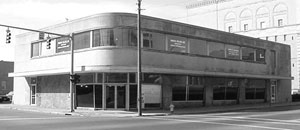 Craig E. Dillon, AIA Architects was established in Springfield, Ohio in 1995.  Our staff, while from different backgrounds and educations, works in conjunction as a team.  We praise each other's strengths and help to improve each other's limitations. We adhere to an "open door" policy which, not only allows our staff, but also our clients to communicate freely and without apprehension.
Since 2000, we have been located in the historic downtown and have become increasingly interested with our surrounding area.  Our fascination with the locale has been a driving force in embracing every project from historic restorations to residential additions and commercial buildings. Though our jobs vary in size and type, we strive to conduct each with the same meticulous care and research.
To produce the finest product possible our firm is equipped with the latest and most widely used architectural drafting software, Autocad.  SketchUp is a 3D modeling program that we also utilize to aid in design and visualization.  Networked computer stations afford us the flexibility and efficiency required to communicate digital information and provide better services within the office, as well as to our clients.  In addition to technological methods, we apply traditional design and creative approaches like hand drawings and concept sketches.  Combined, both techniques help us effectively portray our ideas to the client, while incorporating their visions to ultimately generate one holistic concept.
Our staff and those we work in unison with are here to assure the client that they are receiving the best services available.  We will make every effort to continue our past relationships and form new ones to make Springfield and the surrounding areas better and more attractive places to live, work, and play.